2023 Aktion Club District Convention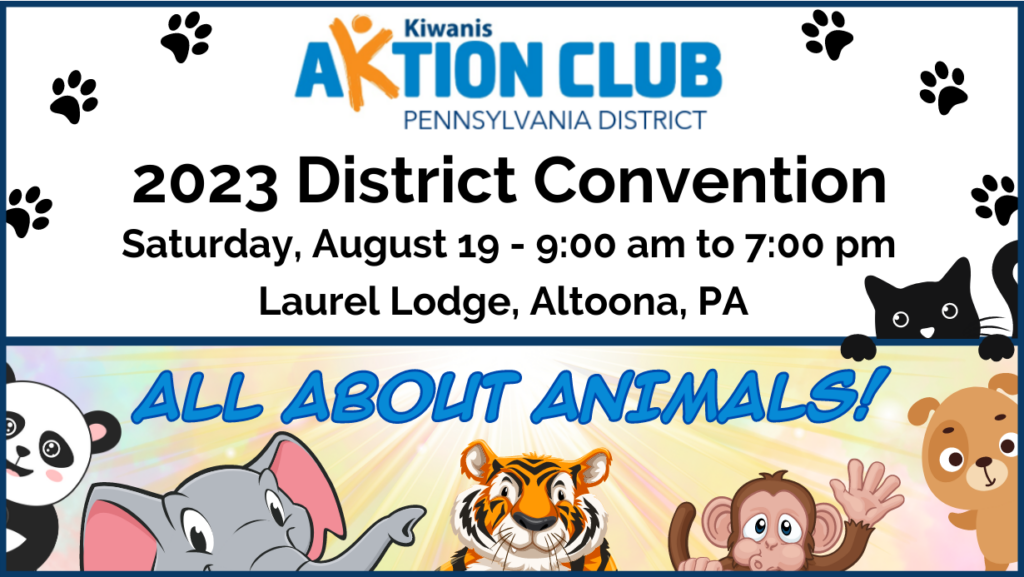 We are excited to announce that the 27th PA Aktion Club Convention will once again be held IN PERSON on Saturday, August 19, 2023, at the Laurel Lodge in Altoona PA!! We will be taking any and all required precautions to ensure everyone's safety throughout this event. The theme for this year's Convention is "All About Animals".
You are welcome to come and stay overnight Friday and/or Saturday at the Laurel Lodge as well (for a nominal nightly fee). Friday will be Game Night and Socializing. Saturday will be jam packed with service projects, training, DJ and fun activities as well as an Awards Dinner.
Registration for the Convention is $45/per person, which includes: meals (Breakfast, Lunch and Dinner on Saturday). This also includes all other activities/supplies for the Convention and a goodie bag. You may bring snacks to share for Friday night and Saturday if you like. If you would like to stay in a room at the Laurel Lodge, the price is $15/night. Lodge is first come/first served. Payment in full is required for registration and lodging; if payment is not received in full, then you cannot be guaranteed a room in the lodge.
Please complete and send the registration form for your club (linked below) and payment NO LATER THAN JULY 28, 2022. You may pay via check, credit card, PayPal or Venmo. Checks should be made payable to "PA District Kiwanis" and sent to:
Pennsylvania District Kiwanis International
125 North Enola Drive, Suite 206
Enola, PA 17025
Attention: Aktion Club Convention
You can also email the registration form and fax credit card information to the District Office. Credit card payment forms can be faxed to 717-540-1018. Please copy Aktion Club Administrator Barb (Byers) Carter on all emails.
Please reach out to Michelle via the District Office contact form with any questions regarding payment or registration.
---