2023 Special PA District Convention
April 1, 2023 at 2 pm
---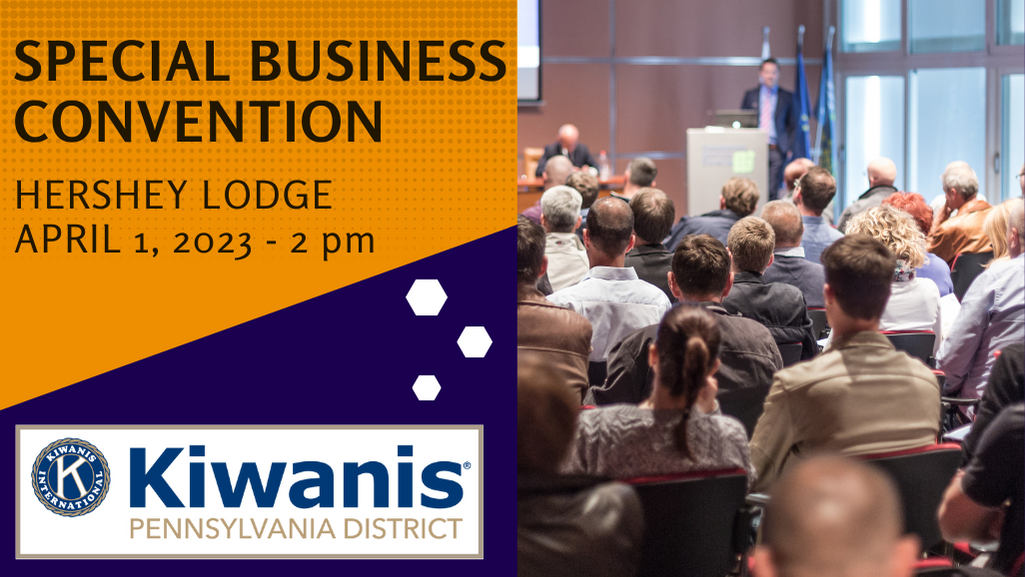 REGISTER ONLINE HERE
Special District Convention Registration Form (PDF)
The District Board of Trustees has called for a Special District Convention to be held on April 1, 2023, at 2:00pm at the Hershey Lodge and Convention Center.
The purpose of this convention will be to consider the adoption of those amendments to the District Bylaws that will allow for the replacement of the District Executive Director/Secretary/Treasurer. This will be the only voting matter considered at this special convention.
The Pennsylvania District Board has undertaken a thorough review of the Executive Director/Secretary/Treasurer position and has decided to break the responsibilities of the position into three part time positions; presently, the position is full time position. The positions will be District Secretary, District Treasurer and District Meeting Manager. The District Board feels that this will allow us to continue to provide effective service to the clubs and members of the Kiwanis family of organizations, make effective cost adjustments and meet recommendations made by our internal auditors.
The amendments being proposed have been approved by the District Board. Those approved amendments were reviewed and tentatively approved with certain changes by Kiwanis International. The District Board will need to meet to review and likely approve the bylaw amendments with the changes required or suggested by Kiwanis International. After the board meets, we will send out the amendments as soon as possible but not later than March 1, 2023.
There will be no registration fee for this special convention but all voting delegates must register online or by the special registration form (linked above). To conduct business, we will need at least 49 clubs represented by at least one voting delegate. The District Bylaws make no provision for proxy or remote voting. All voting must be in person. Every club in good standing in the District is entitled to have up to 3 voting delegates. 
Should you have any questions or need more information, please contact Kevin Thomas at [email protected] or 717-540-9300.
We hope you and representatives of your club will be present and help chart the future course of Kiwanis in Pennsylvania.